BUPE.ME
Telemedicine with Suboxone
BUPE.ME | Telemedicine with Suboxone
WELCOME TO OUR PROGRAM
We are glad you are here. Let's get straight to the point. We have been asked by the federal government to provide telemedicine with Suboxone. We have helped patients in multiple states and currently adding more states to our list. We hope we have a chance to work with you.
Let's start today!
If you are ready to begin Medication Assisted Treatment (MAT) in a structured program, we can do so today. All from the privacy of your home. All through your smartphone.
Telemedicine with Suboxone can provide a low-cost, user-friendly program that allows you to live a normal life. No longer will you have to ask for time off from work to go to an office or ask friends to give you a ride or find a baby sitter. You now can receive low-cost treatment in the privacy of your own home.
When you are ready, fill out the registration, you will be asked for a time that's convenient for you to talk about your treatment. When finished with the form, one of our medical team members will reach out at the time and date given and in most cases, we can start your treatment the same day.
Make sure you watch the introduction video before requesting a call when your registration has been completed.
WHAT IS YOUR GENERAL PROGRAM?
The general program is very simple. Once you have decided to start, you complete our online registration process. This is a series of questions, videos, and documents to review, answer, and sign. The online registration process takes about 45 minutes. The entire process can be accomplished through your smartphone and it's $125/month or $80 every two weeks.
Once you have completed the online registration process and payment then request a call back from us. One of our intake specialists will talk to you and get you started. We will work with you the same day and a prescription will be electronically sent to the pharmacy of your choice. Congratulations. You are in a treatment program. And you never even had to leave work or home.
Please watch a short introduction to our program below:
Our current treatment coverage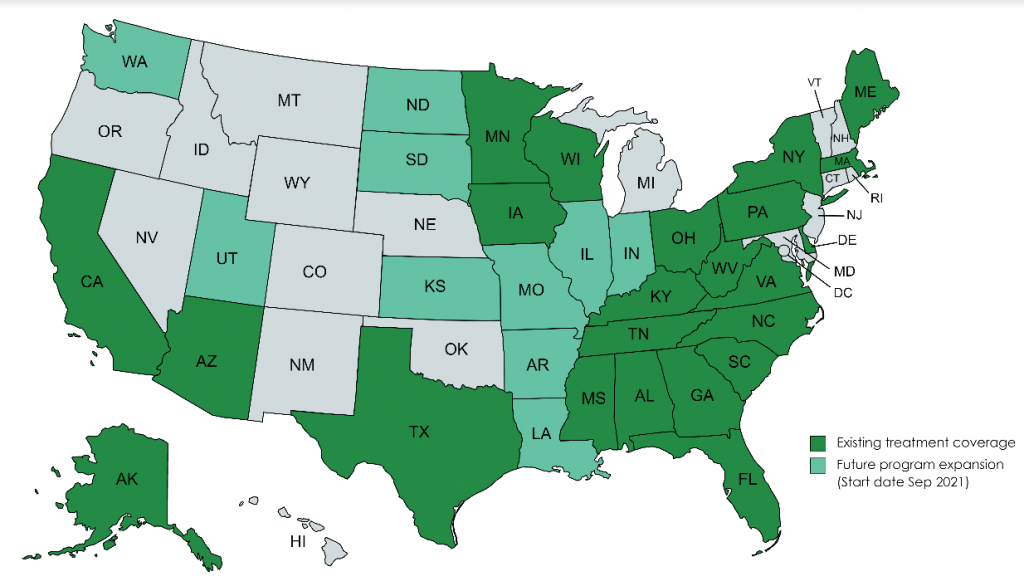 TELL ME ABOUT COST, WHAT WILL INSURANCE COVER??
There is good news. To date, not a single insurance for the prescription has been denied. At least, if you have an insurance prescription plan, your medication cost will be covered. Even Medicaid has been good to our people. Sometimes certain insurances will pay for a specific brand or formulation. We are fine with that. We are good with anything that helps our people.
That stated, here is the bottom line – none of the insurances, not Medicare, Medicaid, Blue cross, Humana, none of them will cover the advanced type of telemedicine we offer. As we are about to get even more advanced, we don't foresee any change in the near future. We are on a cash basis, not by choice, but by necessity. the cost of our program is $125 / Month or $80 every two weeks. We want our People paying the lowest monthly payment possible.
TELL ME MORE ABOUT THE REGISTRATION PROCESS
The thinking behind our registration process is simple. Before we even meet with you in person, let's go ahead and lay out everything we need to know about you and everything you need to know about us and the medications we use. The first part of registration is just simple demographics. Who are you? Where do you live? What is your date of birth? Address?
Next, we want to know more about your history with addiction, treatment, Suboxone, medical, surgical, family, psychiatric, and legal history. Then there are two documents for you to review in great detail and sign. These are somewhat lengthy but important documents called a narcotics agreement and an informed consent document.
Finally, there is a series of videos for you to watch and answer some fairly specific questions. After all this is completed, you are ready to begin interacting with us through live, real-time telemedicine. Again, all through your smartphone.
WHAT WILL MY FIRST TELEMEDICINE ENCOUNTER BE LIKE?
Now remember, we function from a position of two-way honesty at all times. You be honest with us. We will be honest with you. We ourselves have been somewhat disappointed and frustrated at times with the current state of telemedicine. Dropped calls, garbled speech, poor connections, feedback (we hate feedback), you name it, we've been through it with our people. But we have always found a way to get everything to work for everyone. And the same will apply to your first telemedicine encounter.
But it should be becoming obvious why we want everything reliably documented before we bring in the telemedicine aspect. We are currently working on our own technology. That's how tough this has been. We are going to fix and create a better process. For now, let's just all get through it.
Through the proper combination of Telemedicine, Internet broadcasts, and a Smartphone app, we can bring our Medication Assisted Treatment (MAT) provider, counselor, and even a pastor to you , directly through your smartphone. But the medication can begin today, in most cases, within a matter of hours. The nightmare is over.
WHAT PHARMACY DO I USE? WHAT IF I'M PAYING CASH FOR MY MEDICATION?
For the most part, our people overwhelmingly use a pharmacy of their choice. And, for the most part, we have a good relationship with our pharmacy colleagues. Getting a good, reliable, sustainable cash price for our people has been a challenge. Goodrx has helped some.
You will see us every Thursday during our weekly mandatory meeting an you can always go back and watch and listen to previous recordings of the meeting again"
WHAT ABOUT THE DRUG SCREENING PROCESS?
Drug screening is required by state and federal regulations. We will be drug screening. But you will be able to complete the drug screen from the privacy of your home and upload the results directly into your medical record. The same is true for our pill counts
WHAT DOSE OF SUBOXONE (BUPRENORPHINE/NALOXONE) WILL I BE STARTING WITH?
We start the majority of our people on 16 mgms a day of buprenorphine. If you have been stable before on a lower dosage or prefer a lower dosage, just let us know. We will not go over 16 mgms a day. If you need or take more than 16 mgms a day, we are not the right program for you.
WHY WILL YOUR PROGRAM NOT PRESCRIBE SUBUTEX?
First off let's be clear. This program will not prescribe Subutex (buprenorphine without the addition of naloxone) except in the setting of a written request for buprenorphine by a pregnant patient's provider. There are no exceptions to this rule. If an individual needs Subutex for whatever reasons, side-effects, allergy, whatever, then this is not the proper program for that individual. There is simply too much diversion seen with Subutex.
WHAT ABOUT BENZODIAZEPINES?
We follow the guidance of the FDA. There is a well-documented risk of death in combining buprenorphine with benzodiazepines such as Xanax, valium, Klonopin, and Restoril. This risk of death will be on you, not on us. You were warned.
But the FDA has stated that we should not withhold buprenorphine from an individual due simply to the presence of a prescribed benzodiazepine.
Our job is to explain the risk of death from the drug combination to you. Your job is to decide what the appropriate action for you is. But the risk is on you. Not us.
WHAT IF I AM CURRENTLY ON METHADONE?
The transition from methadone to buprenorphine can be done. But it is not an easy transition. The standard recommendation is to slowly taper down to 30 mgms of methadone a day. Once stabilized at 30 mgms a day, you are advised to wait 3-5 days before beginning the buprenorphine.
But don't kid yourself. It's one of the toughest things you will ever do.
WHAT IF MY MEDICATION IS LOST OR STOLEN?
We simply cannot be replacing lost or stolen medication through telemedicine. You are asked and are required to keep your medication under lock and protected. Quite frankly, if you cannot keep and protect your medication from others, you may not be a good candidate for a telemedicine program.
Treatment should be readily available – World Health Organization